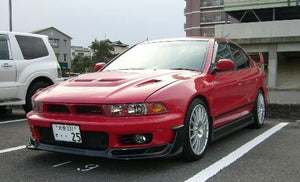 JDM Unicorns Episode 4: Mitsubishi Legnum VR-4 Type-V Manual
So here's a vehicle no one would class as a unicorn. I'm sure many scoffed just at the title considering this is a common mass produced station wagon and decided not to read this. But for those who are curious enough to get to this stage you might get an appreciation that ultra rare vehicles are not always the ones well documented. Sometimes they can be such that if we stumbled across them for you it would be like finding a Picasso in a garage sale. The major point of difference we want to make here is to have some posts with information that would be news to almost anyone including industry experts. Of course most of these trade secrets are for our investor clients who we pick vehicles for to tuck away for a large ROI later. But we will let the odd one slip on here just for you. We could write about 1 of 5 NSX-R GT's and maybe we will, but unless your Spoon Racing or the Sultan of Brunei you would never have the chance to own one. But here's a old station wagon anyone could have owned.
What I love about the Mitsubishi Legnum VR-4 Type V manual is it's a unicorn that has probably had numerous owners who all had no idea that their grocery getter was the only 1 ever produced. That's right there was only 1 EC5W LNGF3 VR-4 Legnum TYPE-V 5FM/T produced. The vehicle itself has probably covered huge miles and may even be in a state of disrepair now. So lets dive in to investigate how such a unicorn even came to exist.
In August 1996 the final model VR-4 was released in both Galant sedan and new Legnum station wagon format. The Legnum replaced the lift back variants of earlier generations. As the Lancer was now Mitsubishi's World Rally Car of choice the previous generation VR-4 and this was no longer built around WRC regulations but aimed more at what the mass market wanted. For 8th generation Mitsubishi Galant and Legnum VR-4's were fitted with a 2.5L V6 Twin Turbo 6A13TT engine that produced 260ps / 191kw for the auto version and 280ps / 206kw in manual format. The automatic versions were known as the Type-S and the manual versions simply as the VR-4 (base) for the pre-facelift. 0-100 times were rated at 5.7 sec for the auto and 5.3 sec for the manual. The reality was even the pre-facelifts produced 283ps / 208kw thus secretly breaking the Japanese gentleman agreement not to produce cars with more than 280ps. However most Japanese manufactures broke it and some as early as the late 80's before giving up on it altogether.
In Jan 1998 a Super VR-4 Galant and Legnum model was produced and sold only in Auto form. This was to be a limited run of 800 but being rated at 260ps / 191kw it was really a just dressed up preface lift. We will cover those in another post later but the fact only 369 of them were produced and sold gives you an idea of how the VR-4 was losing popularity as a model with so many other performance choices on the market. By August 1998 the face-lift model is released to try add life back into the model. Now both the auto and manual versions are rated at 280ps / 206kw. But even Jeremy Clarkson who loved driving the face-lift Legnum during testing said that there was no way in his view this vehicle made less than 300hp. The manual versions that sold okay at release in 1996 were selling in such numbers by 1998 that they are initially dropped as an option on the face-lift Legnum's. This because drivers favoured the sporty Invecs-II 5 speed self learning auto over the manual. The Recaro seats and Momo airbag steering wheel from the Super VR-4's were available to be fitted in Face Lift VR-4's on request also and a most commonly seen in Type-V's.
The face-lifted Legnum sold in Type-V spec with slightly lower trim and no AYC "Active Yaw Control " rear diff and the range topping Type-S spec with higher trim had AYC. One of the main ways to tell the difference looking at one externally is the Type-S face-lift has wheel arch moldings to give it a more aggressive look. The Galant is sold also sold with both versions available as Auto's. On the Galant it was the Type-V which got the manual option with no AYC. (901 were sold) The Galant Type-S was never produced in manual with AYC. The Legnum in May 1999 due to demand was available in Manual again but only for the top grade Type-S version with AYC. A manual option in a Type-V was not offered to the public. So face-lift Galant manuals have no AYC where as Legnum manuals have AYC.
But something strange happened in that one and only one face-lift Legnum Type-V with no AYC was produced in manual. We can only assume a very special customer with a long standing history with Mitsubishi or someone inside the company with enough leeway to get what they wanted managed to get an exception to the rule. The owner must have been demanding a face-lift Legnum in manual and that a Galant would not suffice. Thus the birth of a unicorn was therefore produced be it by accident. What we know about the car is that is was likely produced by special order between August 1998 and May 1999 before the Type-S Legnum came back on board in manual format. Possibly based on the fact that the VR-4 Galant facelift Type-V was the only offering in manual format at the time the decision was made use a Type-V Legnum. Or it may have just been what was rolling down the production line that day and for all we know it may have even been produced as a mistake. It would have been sold anyway as the cost to hold up the production line to rectify it would have been pointless. Although some people don't rate the AYC feature in my opinion if your buying a Manual Legnum and you have the choice a Type-S with AYC is what you want. Mitsubishi thought so too, apart from that 1 and only Type-V. It's either somewhere out there tucked away in a collection or likely with an owner with no idea of its rarity. Or it may have long since gone to car heaven, but if it could be found it is a unicorn surely worth having. Keep in mind that manual swaps take place so there could well be more than 1 non official one out there but if you find or know of the original then make our day.
We think the 8th Gen Galant and Legnum in VR-4 guise are awesome vehicles to own that are highly underrated. My first experience of a super fast JDM vehicle was been thrown back hard into the seat by one as the turbos came on song in the late 90's and I will never forget how exciting it was. Most examples are abused, thrashed and close to their end of life now so we think right now is the perfect time to look at having us import you a super tidy one to tuck away. Currently this often forgotten JDM engineering master piece is good buying and now is the time to invest before it gets back on everyone's radar and prices skyrocket. If you want to get one contact us here.
Credits belong to Japanese cars
---